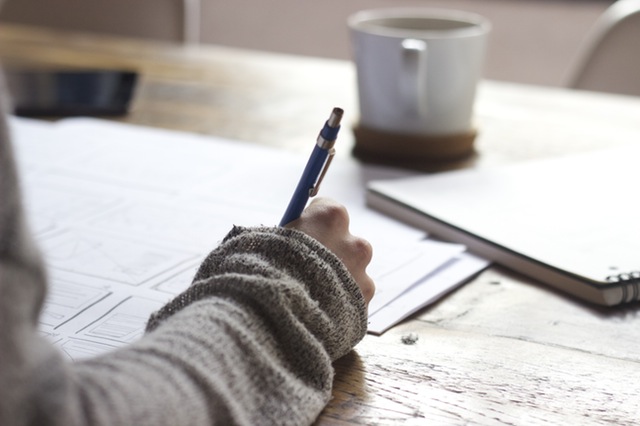 My dad was always a diarist, which is the slightly old-fashioned term for journaling. Odd that the companion term is "journalist." When I hear that word, I think of news reporters. But the secondary meaning for "journalist" is simply "a person who keeps a journal."
So perhaps I'm a journalist, though only in that sense. And maybe you are too?
There are so many ways to journal these days…apps, and blogs, and Facebook posts, even Twitter posts, I suppose, count. Of course there's always the old fashioned daily log in book or planner form. And there are photo journals, Instagram, and digital platforms that dominate social media.
How do you record your life? Or do you?
I often blog, and I keep notes on my laptop, or iPad, secure in the knowledge that when I'm ready, the words that come to me through the day or week will be there, ready to string into cohesive thought.
For twenty-five years I kept a daily planner, and I noted all sorts of things on my pages. Ubiquitous things like grocery lists and Christmas card lists, reminders and quotes, to-dos, important dates. My planner went everywhere with me, and each January when I put new pages for the coming months in my binder, I felt the thrill of the new blank year, full of possibilities, literally in my hands.
A few years ago I steeled myself to give up my pages, my dependence on paper and the physical, and I went digital.
It was hard at first, and I wavered a few times. But I told myself I live in the digital age, and why shouldn't I take advantage of that?
Now I find myself drawn to technology that allows me to use a digital pencil…a stylus…to hand write again. The words appear on my screen in my cursive scrawl. I don't know why I need this, but sometimes I do. It's not the same as typing out my thoughts. My scrawl has personality I don't see in characters that flow from my keyboard.
So I'm digital, but I also record some things by hand, nurturing a need in myself to write the words out long.
These are the things I write about and log:
my musings…or maybe my wanderings
wisps of poetry, my own words
favorite quotes, others' words
validations of faith, and questions about it all
stories of my life;
stories of any life
Journaling is as individual as each of us. I know writers who journal about their children and families, their hobbies and sports, cooking, food logs, exercise logs, politics, crafts, and all things in between. It can be a daily occurance, or the exercise of a few minutes a week.
There is no wrong way to do it.
I like that kind of habit!
Come along, share your stories, keep your journal. Let's prompt each other.
I'll be noting what I'm journaling about, and please, fill me in on your efforts too.
Stories are so much more fun when they're shared, right?
Here's a free gift to get you started: a PDF of a printable template. Simply download, fill in the blanks, circle the day of the week, and you have a simple format for your journal notebook.
Enjoy! Going to get my pencil now…