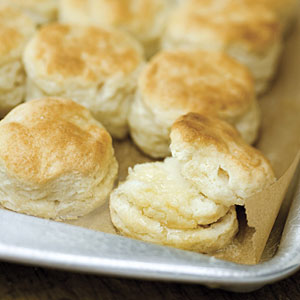 I grew up in the South. I had grandmothers who cooked; a mom, aunts, cousins, a mother-in-law who are all stars in the kitchen. And I don't do too badly myself, in some areas. But I've always been defeated by biscuits. I know, they're such a Southern staple…tragic that I couldn't produce a successful version of that breakfast icon.
Over the years I've collected a variety of recipes, each promising to be the best, the fluffiest, the epitome of biscuitness. And every time I've tried a new recipe, I've had another disappointment.
Last weekend I was doing a little internet surfing and stumbled across a classic Southern Living recipe for buttermilk biscuits. The photos looked so amazing, I decided to give it one more try. And I produced perfection! I've probably even made this recipe, or something very similar, before. So what was the variable this time? Well, for the first time ever, I baked the biscuits at the temperature the recipe specified! I know right now you're thinking, why would you not bake at the temperature the recipe gives?
I like lightly browned breads, nothing too crisp or crusty. So I've always baked at a lower temperature, thinking that would keep my biscuits from browning too much. But when I actually baked them at 450 degrees, they puffed up to an amazing height. To my surprise, they were lightly browned on the exterior and were the perfect pillowy texture on the inside.
There are times that it is good to think outside the box. There are times when it is good to make your own rules, to do what works for you. But there are also times when following the rules pays off. You don't need to reinvent the wheel for some things. Biscuit recipes work as they're written. Math works according to known formulas. Sometimes the best course is to see what has worked for others and to copy what has been successful. That doesn't mean you don't have creativity or ability to be original. It may mean that you are smart enough and humble enough to recognize that others may know a thing or two. That you may not always have the best answer, the best idea.
The trick is to know what strategy to use for the given situation. From now on, if I'm making biscuits, I'm going to trust the recipe and "bake as directed." How many times I've read that instruction, and how frequently I have not baked as directed! And what else have I mis-managed because I didn't follow the directions? On the other hand, there are situations in life that demand that I listen to my heart, that I follow my instincts.
Maybe that's the challenge for each of us…when to conform and when to stand up and follow our on path. I don't have all the answers. A lot of the big questions of life are complex, and there may not even be one "right" answer for some things. But I've learned that's not the case for baking biscuits. It's good to follow the recipe. It's good to follow directions.
Perfect Southern Living Biscuits
Ingredients
1/2 cup cold butter
2 1/4 cups self-rising soft-wheat flour
1 1/4 cups buttermilk
Self-rising soft-wheat flour
2 tablespoons melted butter
Preparation
Enjoy! And don't under-bake!